Russian Christmas and New Year's Cards
Postcards by the Community of St. Eugene
Postcards by the Community of St. Eugene (Saint Petersburg) and other publishers
The famous Stockholm publisher of E. Svanström has quite a different approach to picture cards, to which the artist Nikolaev much contributed. He depicted scenes of rural life, played out about snow-covered buildings.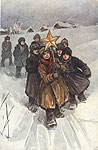 In the traditions of Russian realistic graphics, there was executed
Ivan Simakov's (1877-1925)
drawing for the card «Carol-singers», showing peasant boys who go with the Christmas star to glorify Christ and to congratulate people on the holiday. Simakov received architectural education, but, mainly, occupied himself with book illustrations.
He made three cards for the Community of St. Eugenia, the largest Russian publisher of postcards. All of them are Cristmas greeting cards issued just in time for the holiday: «For Cristmas Trees» was published in November 1909, «Carol-singers» came out in December 1910, the illustration to the scene of Tatiana's divination on Christmas Eve from Pushkin's «Eugene Oneginraquo; («"What's your name?" she asks him. He looks, and answers: "Agafon."») was released in December 1911.
Girls Divination is the old tradition that falls on Christian Christmastide (public holidays between Christmas and Epiphany). The romantic and picturesque rite has always attracted artists and has repeatedly appeared on postcards.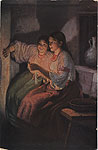 The same
Community of St. Eugenia
issued the «Divination» by Fyodor Buchholz (1857-1942) in December 1907. The painting of the unparalleled popularity - «Fortune Telling on Christmastide» by
Nikolai Pimonenko
, was published twice in 1901 and 1905 (afterwards, the first chromolithographic variant was reproduced at least 12 times). The canvas, which brought success to the young artist, was painted in 1888 and 1898 and now is stored in the Russian Museum in Saint Petersbure. In addition to the Community, in the early 20th century, it was published by the
Russian Museum
, and Swedish
Granberg's Joint-stock Company
.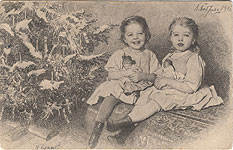 An image of an «urban» and at the same time «children's » Christmas holiday was created for
The Community of St. Eugenia
by the artist
Victor Bobrov
. Bobrov, a prolific portrait painter, watercolorist, engraver and master of drawing, worked with Community from 1901 to 1917. He left a gallery of salon female "heads" and vivid pictures of noble girls, against a background of which the drawing «At the Christmas Tree», made in 1905, stands out with its sincerity and simplicity of execution. A year earlier,
The Community of St. Eugenia
released a series of
10 Christmas children's cards
after the originals by
Agnes Lindeman (1878 -?)
, a watercolour paiter, illustrator and embroideress.