Russian Easter Postcards of the Early 20th Century
World War I Postcards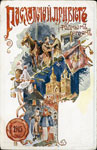 «And on this bright joyous day of Easter, when the sky merges with the earth, and the earth becomes heaven, our thoughts, our hearts go to the places where our brothers, our children give up their lifes for the Orthodox faith, for tsar and fatherland, where lots and lots of them were buried in the earth, kept the Holy commandment of love for their neighbor… And the heart yearns to exclaime to them, to both the men alive, and dead: brothers-warriors, Orthodox warriors of Christ! Christ is Risen!»
Archimandrite Nikon (Rozhdestvensky). «Den' rajskoj radosti [Day of Heavenly Joy]» («Pravoslavie and grjadushhie sud'by Rossii [Orthodoxy and the Future Fate of Russia]»)
After 1914, Easter card illustrators reflected the new topics related to the First World War. New publishing entertainments appeared. For instance, the picture postcard «Easter greetings to dear heroes» was produced for the Committee of the Depot of Grand Duchess Xenia Alexandrovna of Russia by Pyotr Pershin, an officer who studied at the Academy of Arts, and after the beginning of the war, was appointed painter of battle scenes at the Headquarters of the Supreme Commander.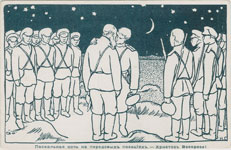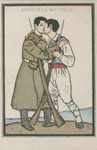 Some cards show soldiers celebrating the feast in frontline environments. The kiss of peace of two Slavic warriors was depicted on a postcard published by Natalia Butkovskaya in Petrograd in 1915. The postcard «Easter Night at the Forefront…» (the author marked it with his monogram «N. G.») was issued in series of the Petrograd Partnership Zvezda. There is known a single issue of the magazine «Peace and War» published by the same partnership in September 1914. In it, the editorial board invited photographers and artists to send photos and drawings of local events related to the current Patriotic War. Perhaps they formed the basis for the series «A Photograph of an Officer - Member of the Great Liberation War of 1914/5» and «The Series of Pictures and Paintings of the Great Liberation War 1914/5» that continued it.
The spirit of the wartime is significantly apparent in a festive postcard published by the Partnership of I. Kushneryov and Kо. The All-Russian Union of Cities, which name is printed on it, was established in August 1914 and helped the wounded and refugees.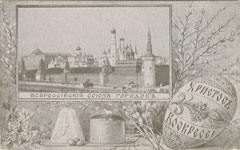 The St. Nicholas Community of the Russian Society of the Red Cross issued a card depicting an epic fantasy: it shows a woman in a Russian folk costume bringing Easter meals to an epical hero sitting on horseback. If we take into account that this publication is released in 1915 and 1916, then it will have an additional shade of meaning: it is not so much a picture of the distant past as an allegory of current events.
Among the great number of greeting postcards created by Sergei Ploshinsky for the Petrograd publishing house «Salon» are cards with ethnographic, historical and «actual» pictures: in the latter case, heroes are wearing a military uniform.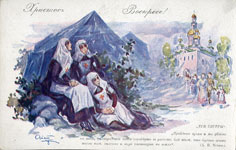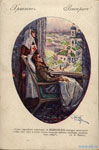 The wounded, nurses are portrayed on wartime Easter cards of Alexander Apsit (1880-1944), published in the Moscow establishment «Graphic Art».
Other cards in this series are remarkable not only for the strange transformations of the globe into an Easter egg. Some of them do not speak about the war but about the expected "dawn of a new life" which is associated, apparently, with the future social change. Their pictorial language is reminiscent of Alexander Apsit as one of the pioneers of the Soviet poster.
Gerard R. Ledger