Military Situation Maps
I. Kiselev
Since the beginning of the war, there were widespread maps showing in detail the changing Front Line on a specific date.
1. The Location of Austro-German Troops on the Russian Front (according to official data): Weekly Map.
Moscow, 1915.
K 3-RossE 4/581
2. Map-newsletter No.1 [18 August 1914] of French-Belgian Theater of War: showing roads and railways, fortifications and the area of military operations of the fighting armies.
Saint Petersburg, 1914.
bulletin K 3-TSEv 6/790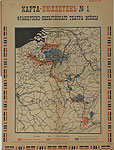 Such maps-newsletters reflected change what happened in the situation on the fronts, and one could mark the change with small flags. Flags for each warring party were printed on the map frame.
3. Le front: Atlas dépliant de 32 cartes. Front occidental: les fronts successifs du 10 août au 31 décembre, en seize cartes. Front oriental: les fronts successifs du 10 août au 30 décembre, en seize cartes.
Paris - Nancy, 1915.
K 3-TSEv 5/402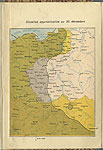 Atlas consisting of 32 maps shows the changing lines of the Western and Eastern Fronts at irregular intervals from the beginning of the war until the end of 1914. The maps covers the most dramatic period of World War I shortly after its outbreak. The occupation of Belgium; the Battle of the Frontiers fought along the eastern frontier of France and lost by the French; the First Battle of the Marne - "The Miracle of the Marne" where the German advance into France was stopped; the Race to the Sea ended on the North Sea when the Franco-British and German armies attempted to envelop the northern wing of the opposing army, the first battle of the Russian army - all this is reflected on the pages of the atlas.
4. [Die wochentlichen Kriegsschauplatzkarten]: Die militärischen Ereignisse (v. 15 Nov. 1915 bis 30 April 1917).
München, [1914-1918].
K 3-Evr 2/455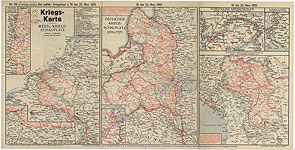 A set of detailed maps, representing a weekly review of military actions on the First World War fronts. The maps show the front lines, the objects of airship attacks, locations of warships, separate forts and captured or destroyed ships, commercial ships and submarines. Supplementary maps of a larger scale depicted areas of important battles. On the back of each sheet, there are featured extensive comments to the events of the chronological period represented on the map. Sometimes, maps of the most important fights missing on the front side, also were placed on the back of the sheet. Throughout the war, the publication came out in Munich as part of different sets. This set of maps covers the period from 15 November 1915 to 30 April 1917.