Child's Exercises
in Translation to French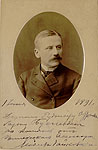 In 1907, Modest Tchaikovsky, a younger brother of Pyotr Ilyich, donated 365 letters written by the composer to the Imperial Public Library. In addition to these letters, the published Report of the Library also mentioned «Child's Exercise of Tchaikovsky in Ttranslation to French». Under this title, the documents were listed in the Inventory of the Tchaikovsky Fund, compiled in 1959. In the same year, the fifth volume of the Complete Works by Tchaikovsky was issued, it incuded the «Child's Exercises». It appeared that the «Child's Exercises» were letters of the eight year old Pyotr in French to different persons.
However, we can not say that the known musicologist and textual critic Anastasia Lyapunova who compiled the inventory of the Tchaikovsky Fund made a mistake by giving such a title to these materials. As a matter of fact, the letters are rather careless drafts with corrections of spelling and punctuation errors and blots. The boy did these draft notes under the guidness of his governess Fanny Dürbach. In fact they are really child's exercises that Fanny saved at home, and then gave to Modest Tchaikovsky. The letters may have been rewritten and their fair copies may have been sent to recipients.
One of the addressees of Tchaikovsky's letters was his aunt Elizaveta Schobert (born. Assier) – the younger sister of the mother of Tchaikovsky.
My dear Aunt Lyse and my Uncle.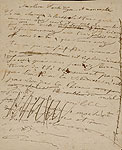 I am delighted/taken with the dear letter that you wrote to us and I am very glad that You, my Uncle, already feel well and you have a very nice home, and you, probably, have what you need, horses, cows and goods [the last two words crossed out], these are the most necessary things. I think you can get the tea very often because Omsk or Siberia is not far from China. You can buy a pood (16.8 kg) of honey for 12 rubles. I kiss your hands a thousand times, my dear Aunt Lyse and my dear Uncle [the last sentence is crossed out].
On the day when we received your first letter there was a ball and a trip on a steamer which had been built here by the British masters. This trip was to Ustrechka on the Kama River. The machines are already old, they were taken from Astrakhan. But the steamer looks very beautiful, there are three cabins with windows, but it is very slow - two miles per hour. In the midst of the trip, a boat came alongside us very fast and we were told that General Glinka had arrived, but no one had met him, we returned home, and Dad went to the general.
Adieu.
Pierre.
The brother of the composer Modest Tchaikovsky dated this letter to 1847, but its publishers – to the next, 1848. The letter was sent from Votkinsk to Omsk where, at that time, Elizaveta lived with her husband – Colonel Vasily Schobert and four daughters. In addition to the childish, but very practical considerations about what is necessary for a family prosperity: a nice house, the cattle and the "goods", as well as a possibility of buying Chinese tea and cheap honey that opens up before Siberians, the letter also contains mention of a geographical reference point – the Kama River and one of the largest of its ports (after Perm) Ust'-Rechka.

The letter also includes a sentence about the health of his uncle. Apparently, this replica is not accidental. Pyotr, knowing about Uncle Vasily's disease, was happy for his recovery. However, it was probably incomplete, because the next year the uncle died, and his favorite Aunt Lisa with their children moved to the Urals, not to Votkinsk but to in Alapaevsk where by this time the family Tchaikovsky settled.
Many years during Tchaikovsky's life in Alapaevsk and, then, in St. Petersburg are linked with Elizaveta Schobert. During his mother's illness, he, with the other children, moved for a while to the aunt's home on Vasilyevsky Island. According to the composer's brother Modest, in 1862, she acquired a "private boardinghouse" at 11, Panteleymonovskaya Street (now Pestel Street), where Pyotr Tchaikovsky lived in 1865, finishing the Conservatory. Later, the famous Russian composers Mussorgsky and Rimsky-Korsakov rented apartments in the same house.
Another childhood letter written by Tchaikovsky in the same 1848, was addressed to a completely unfamiliar person – the sister of his French governess Fanny, Frederick Dürbach.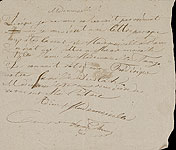 The letter is very short,
Mademoiselle!
Although I do not really know you, but I'm writing a letter to you, because you are the sister of Mademoiselle Fanny. I wrote a letter to Mademoiselle Adele, a friend of Mademoiselle Fanny. I know your name is Frederick, your surname is Dürbach.
Mademoiselle wants to write you a poem about my homeland.
Farewell, Mademoiselle.
Pierre Tchaikovsky.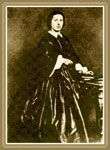 The poems about Russia, mentioned herein, are related to lessons of poetry, included in the range of subjects, in which Fanny awoke interest of their pupils. And of course, verses specifically about Russia were important for Pyotr. As Modest Tchaikovsky wrote, Pyotr felt "absolutely extraordinary love" to the homeland. Noteworthy is an episode of his biography, written by the brother Modest, 'Once he, sitting at the atlas, unfolded it and, looking at a map of Europe, began kissing Russia, and then pretended to spit on the rest of Europe. Fanny stopped him and began to explain that <…> it's a shame too despise the neighbors just because they are not Russian, and so on. Then Pyotr said to her,' You should not scold me because, probably, you have not noticed that spitting on all countries, I covered France with my hand''. it seems he sought to disseminate this enthusiastic attitude as widely as possible, in particular, carrying friends and relatives of his teacher, mentor and friend – Fanny Dürbach, living in France, with it.

Tchaikovsky's papers belonged to Fanny, contain poems by Tchaikovsky in French. Although Fanny Dürbach did not presented these records to Modest, he copied them, translated them into Russian and published.
Here is a fragment of one of them dedicated to Russia, with translation by Modest Tchaikovsky,
Sur ma Patrie
Oh! patrie que j'aime
Je ne veux point te quitter
J'existe j'i mourrai aussi
Oh! Patrie, que j'aime
Ma terre cherie.
Oh je n'irai point la
Chez un peuple etranger
Je t'honnore ma patrie
Je n'honiiore point une autre
To my Fatherland
Oh, my fatherland that I love,
I do not want to leave you,
I live here, here will die.
Oh, my fatherland that I love.
My dear land.
Oh! I will not go
to foreign peoples,
I honor you, my homeland.
I do not honor another completely…
Perhaps, it is that very poem, to which the eight old Tchaikovsky referred in the letter addressed Frederick Dürbach.