«O Gladsome Light»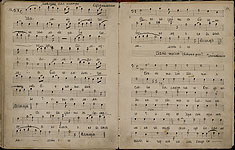 Pyotr Tchaikovsky created severel church music choral compositions. They were published by Poytr Jurgenson in the form of scores and individual parts for different voices. However, not only publications were widespread. Choristers rewrote their parts by hand in music books to perform hymns during the church service. These notebooks contains chants on the same texts, composed by different authors. One of the notebooks, with the part for bass I, includes the hymn ««The All-Night Vigil»» by A. Arkhangelsky, G. Lvovsky, G. Lomakin and others. It also contains two hymns from «The All-Night Vigil» by P. Tchaikovsky: «The Hail Mary prayer (Mother of God and Virgin, rejoice,)» and «O Gladsome Light based on the Kiev chant».(Listen)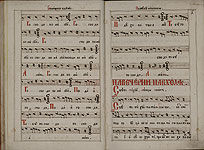 As we know from the letters of Pyotr Tchaikovsky and his preface to P. Jurgenson's publication, while working on «The All-Night Vigil», he thoroughly studied all sorts of materials related to the history and tradition of church singing. He ordered to P. Jurgenson the book «Church Singing in Russia» by D. Razumovsky. Tchaikovsky also referred to the printed music published by the Holy Synod, which, to a certain extent, were based on chants, originally written in manuscripts.
Creating «The All-Night Vigil», Tchaikovsky wrote,
'I am not an independent artist but a rewriter of ancient chants'.
One of these chants, named «Kiev», was known in Russia from the middle of the 17th century. It was included into a variety of manuscripts, and in particular, «Irmologion» written by Priest Gregory in 1759. In this book, «The All-Night Vigil» containing the hymn «O Gladsome Light» is set to the Kiev chant.