Conclusion
It is hardly possible to show all manuscripts related to Tchaikovsky, stored in the National Library of Russia. Among them, for example, is his letter to the Director of the Imperial Theatres Stepan Gideonov, in which he asked when the Mariinsky Theater started the staging rehearsal process for performing his opera «Ondine» in the 1869/1870 season. Despite the promise of Gedeonov (though very vague), the opera was not staged, and subsequently, its score was destroyed by the composer. In some musicologists' studies, this letter is considered to be lost.
The National Library of Russia also keeps a set of documents dealing with the right of censorship, which Directors of the Saint Petersburg Court Capella had since the time of Dmytri Bortniansky. This right, for instance, was used by Nikolay Bakhmetev who banned to perform Pyotr Tchaikovsky's Liturgy during the divine service and arrested all its printed copies.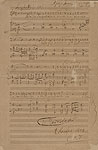 Noteworthy are musical autographs, not mentioned above. For example, the famous Arioso of the heroine «Why haven't I known this before?» represents the most lyric composer's opera «Iolanta». The Arioso is written in the form of the clavier, and its text is not complete. It was cut off in the mid of the sentence 'I entered into a solemn chorus'. The second half which continues the sentence is missing. The composer deliberately breaks the text, this is proved by the subsequent bar with a stroke of the pen and by his autograph signature with the date '2 November 1892. S.P.b'. (Listen)
In the mid-70s, Tchaikovsky made an orchestration of Ferenc Liszt's ballad «The King in Thule». The score inscribed by hand by Pyotr Tchaikovsky is also stored in the National Library of Russia.
The library also houses memories about P. Tchaikovsky of the composer Anatoly Lyadov, the musicologist and editor of the Russian Music Newspaper Nikolay Findeisen, the dancer Maria Anderson - the first performer of the role of the Wite Cat in Tchaikovsky's ballet «The Sleeping Beauty». The notebook with Anderson's memories includes also photographs pasted in it, that reproduce the heroine of a fairy tale, who appears in the epilogue of the ballet.
The Manuscript Department possesses other materials depicting performers of the leading parts in Tchaikovsky's works for musical theater: Medea and Nikolay Figners, Leonid Sobinov, Nikolay Pechkovsky, Konstantin Serebryakov, Alexander Smirnov and others.
Concluding the review of materials related to Pyotr Tchaikovsky, stored in the National Library of Russia, we would like to recall the words written by the composer on 17 March 1878 in a letter to Nadezhda von Meck,: 'Only that music can touch, astound and affect, which flows out from the depths of the soul excited by artistic inspiration'. This Tchaikovsky's statement applies fully to his compositions. Indeed, Tchaikovsky's music fascinates, captures, astounds and, in the words of Nikolai Findeyzen who gave a fairly precise definition of its impact on the audience, 'takes high to heavens <…> above our everyday, bustling life'.