Pyotr Tchaikovsky's Manuscripts
in the National Library of Russia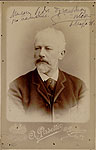 The historical circumstances led to that Pyotr Tchaikovsky's Manuscripts have been dispersed to many different places in Russia. The Tchaikovsky Museum in Klin, the Glinka Museum of Musical Culture, the Moscow Conservatory, the Music Library of the Mariinsky Theater, the Russian State Archive of Literature and Art – this is an incomplete list of institutions in which the composer's musical autographs are stored. Meanwhile, during Tchaikovsky's lifetime, it was assumed that all his manuscripts would be kept in the Imperial Public Library. However, this did not happen, and 'Tchaikovsky's works were represented here <…> by only a small number of autographs', as Andrei Rimsky Korsakov wrote in his book «Musical Treasures of the Manuscript Department…» in 1938. He explained this by the fact that the publisher of Tchaikovsky P. Jurgenson 'almost monopolized the right to collect Tchaikovsky's musical autographs'.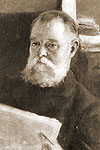 Indeed, the first and perhaps the only publisher of Tchaikovsky's works, the founder of the largest Russian music printing house of that time, Pyotr Jurgenson, after publishing works of the composer, took manuscripts into his possession. In 1894, shortly after Tchaikovsky's death, Jurgenson issued a catalogue of published works, showing how many Tchaikovsky's musical autographs must have been accumulated in his establishment.
However, Pyotr Jurgenson had no intention to become their sole owner.He intended to donate all Tchaikovsky's manuscripts to the Public Library in the future. He wrote to V. Stasov about this on 19 December 1884,

'Pyotr Ilyich Tchaikovsky informed me about your desire to obtain some of his manuscripts and asked me to agree to transfer them to the Public Library. Much earlier, I decided that, some day, I would give the original manuscripts to the Public Library, not individual compositions but all of them. I keep them safe and intact and I take care of them and struggle for them with the author who hold them very cheap and do not take care of them. <…>. Forgive me if I consider it premature to give them to you. They will not go away from you, believe me'.
Jurgenson's intention was not fulfilled. It seems surprising, but the composer himself interfered with him. He was not satisfied with "the company" of musicians whose manuscripts were acquired by the Imperial Public Library, through the efforts of Stasov. Although Jurgenson tried to convince Tchaikovsky, reminding him that there were already Glinka's manuscripts, and the library itself – 'the repository, available to the public for centuries and, God grant, for millennia', all attempts to collect Tchaikovsky's manuscripts in it, were unsuccessful.
And yet, in spite of the resistance of the composer, the National Library of Russia has developed a considerable collection that numbers about five hundred documents written by Pyotr Tchaikovsky. The collection consists of both musical scores of his complete works and fragments of works inscribed by Tchaikovsky that have been preserved on separate sheets of printed music and in home albums, in which the owners collected handwritten records of their contemporaries – the musicians, poets, writers. It also includes dedication inscriptions made by Tchaikovsky on his photograph and music publications. In addition, in one of Taneyev's manuscripts there are notes made by Tchaikovsky – the conductor in the preparation of his compositions for performance. But, perhaps, the most numerous set of materials is epistolary heritage of Tchaikovsky. The library has more than 450 letters of the composer to various addressees. The earliest of these date back to 1848, the most recent were written in 1893, not long before his death.
Materials related to Tchaikovsky are not limited to his autograph. Throughout his life, he met and communicated, correspond with different people, many of whom have passed into the history of Russian culture, and their documents were acquired by the Public Library. These documents make it possible to show the composer in the surroundings of his relatives and friends, to illustrate episodes of his biography by the original manuscripts of his contemporaries.