Drawings of the Coats of Arms of the Russian Empire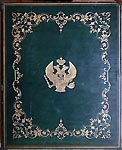 The Museum of the Rare Books Department houses a remarkable collection of lithographs titled
Drawings of the Coats of Arms of the Russian Empire: an appendix to the First Complete Code of Laws
. The plates are kept in a wooden box made in the form of a book with a gold border, imitating a dark green leather binding. The top cover is decorated with a double golden border and an ornamental frame. In the center of the lid, there is located the Russian Coat of arms. The case contains 114 plates of colour lithographs with images of the coats of arms of principal cities of provinces and regions of the Russian Empire. On the upper left side of each sheet, there are dates indicating when the coats of arms were officially approved. A number of the relevant law is given in the top right corner. The lithographs were printed in 1843 at the publishing house of the Department of Military Settlements.
The First Complete Code of Laws of the Russian Empire consisted of 45 volumes embracing a total of 30,920 statutes and covering the period from 1649 to December 12, 1825, i.e. from the Legal Code of Tsar Alexis of Russia until the end of the reign of Emperor Alexander I. The laws were printed in two columns, their texts reproduced the original statutes with indication of the day, month and year of publication. The material was placed in strictly chronological order, each law from the Code had its own ordinal number. (PSZ I. 1649 - 1825. In 45 volumes - St. Petersburg: 1830).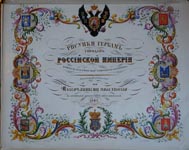 In addition to the laws themselves, the Complete Code included chronological and alphabetical indexes, a book of tariffs for European and Asian trade for different years, a general supplement to tariffs, an index of names and surnames to the Code, and staff books.
The Book of Designs and Drawings containing the Coats of Arms of Cities
was issued as an appendix to the First Complete Code of Laws. At the same time, a presentation copy of
The Book of Drawings
was made for the Empress Alexandra Feodorovna, with colour lithographs that were not bound and represented numbered separate sheets placed in a luxurious case in the form of a book. A finest tissue paper leaf was pasted to the top of each lithograph for protection of images.
Science and Life
published regularly articles on the old city coat of arms. In the new Russia, coats of arms of cities are placed on coins, dishes, clothes. Very popular are cycle of TV broadcasts
Coats of Arms of Russia
and the periodical
Coats of Arms of Russian Regions
. Since 2010, the Russian post office has produced a series of stamps depicting the coats of arms of Russian cities.