Introduction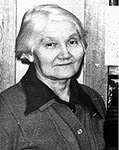 The collection of Russian and foreign maps of the city of St. Petersburg, housed in the National Library of Russia, has no equal in Russia. It comprises more than 1400 items ranging from the early years of the 18th century to the present. The collection makes it possible to trace the history of the city, stages of its development from the very first years. Moreovere, thematic plans of the city clearly reflect the multifaceted look of the northern capital.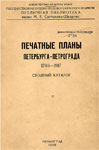 The city plans of the 18th - 20th centuries form a separate collection. Its first curator N.K. Shablaeva (1917 - 2009) compiled the outstanding union catalogue «Printed Plans of Petersburg - Petrograd. 1703 - 1917», published in Leningrad in 1966. The catalogue became classic. It includes more than 800 descriptions of plans that are now stored in different institutions in St. Petersburg and Moscow. Plans of Leningrad and modern Petersburg are also part of the holdings of the Cartographic Department.
In recent years, we have carried out extensive works on the digitization of rare cartographic publications.
The first collection to be digitized routinely was the collection of printed plans of Saint Petersburg, the largest of that kind in our city. One of results of these digital projects was the creation of an electronic album «MOSAIC PICTURE OF ST. PETERSBURG. 300 Years on Plans and Maps», issued to mark the 300th anniversary of the northern capital. It has zooming capabilities which can be used for increasing an image and showing the smallest details of the plan, sometimes, hardly visible on the original. It is also possible to search maps by author and publisher, period and subjects.
Now, the digital images of the plans of the city are available in open access through our site: Maps and Plans of St. Petersburg. In addition, with the Electronic Document Delivery Service, remote users can obtain electronic copies of maps and plans.