About the Iranian Collection
The library's extensive holdings of books, periodicals and newspapers in Oriental languages are concentrated in the Department of the Literature of Asian and African Countries. The department's stocks include a collection that embraces books in the numerous Iranian languages – Balochi, Dari, Kurdish, Persian, Pashto etc. It is one of the most rich collections in the department: the Iranian holdings contain 4726 books in Persian, 183 items in Kurdish, 23 in Balochi and 804 – in Pashto.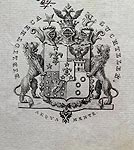 Much information about the collection is found in inventory books. The first records in them are dated to 1939, when the Iranian holdings began to be catalogued. It was established that the main acquisitions had came from Tashkent, Kazan, Moscow and Tehran. The books published in the first third of the 19th century can be considered as the earliest items in the Persian Collection. Among them are the famous
Gulistan (The Rose Garden)
by the major Persian medieval poet Saadi Shirazi – the volume with a very elegant cover was issued in 1828 in Tabriz.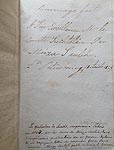 In former times, it was a part of the collection of General Sukhtelen – this fact is proved by
a magnificent bookplate on the first flyleaf
. And at the end of the book there is
a handwritten note
which contains a detailed commentary about the history of the publication.
Another book that once belonged to the student of the Shusha non-classical secondary school Javad Gadzhiyev, looks very touching. Obviously, Javad was a great lover of poetry, because he carefully marked rhymed passages in the text. The pages of other books also bear a lot of bookplates and owners' inscriptions; notes in their margins, written both in Russian and in European and Asian languages, are especially valuable. But among the ancient volumes, of course, there is no children's books & hellip;
Of course, the so-called moralizing stories may be regarded as the forerunners of juvenile literature. This is a special genre, very popular in Persia. Not only professional writers, but any literate person could leave a kind of & laquo; testament & raquo; to their children, which eventually turned into a landmark of literature of the time.
Yet, a collection of ethical teachings is not children's literature in the modern sense of the term. This exhibition is dedicated exclusively to children's books. The theme for the first online exhibition from the Persian stocks has been chosen not by accident. The Department of the Literature of Asian and African Countries keeps many interesting children's books, about which we would like to tell more.