In celebration of the 1150th anniversary of the Slavic alphabet
Croatia. Glagolitic Today
Croatia. Glagolitic Today
In our day, the Glagolitic writing is a symbol of national identity in Croatia.
Here are a few examples to illustrate this important point. The inscription on a wall in the Zagreb cathedral to celebrate the 1300th anniversary of the adoption of Christianity of the Croatian people is made in Glagolitic. In 1967, a specially designed medal by the Croatian medallist (Želimir Janeš) with inscriptions in the Glagolitic script was issued in Zagreb to commemorate the 1100th anniversary of the death of St Cyril the Philosopher.
Croatian artists and designers currently apply the Glagolitic letters. In some publications, for instance in the Journal of the Zagreb Society of Friends of the Glagolitic Writing - Bašćina(Heritage), articles printed in Latin are repeated in the Glagolitic script.
The Glagolitic letters can be found on clothing, coins, wine labels, boxes of chocolates and other household items.
Svetlana Vyalova,
Mauscripts Department

"For her contribution to the study of Croatian language and culture as a whole", Svetlana Vyalova, a leading researcher of the Mauscripts Department of the NLR, was honoured with the Order of the Croatian Danica (the Morning Star) with the face of Marc Marulić - Red Danice Hrvatske.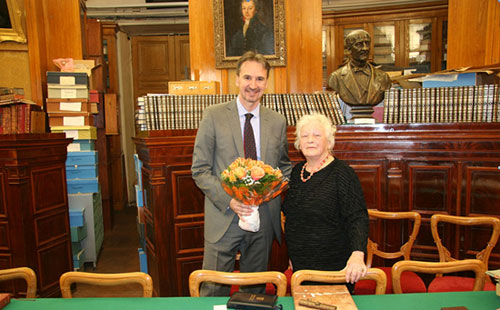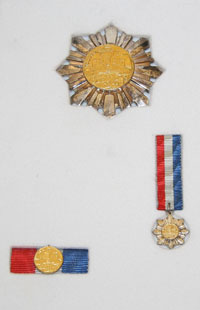 Croatian Ambassador to the Russian Federation Igor Pokaz and Svetlana Vyalova