Vladimir Mayakovsky. Dreamer and Herald
Women in Mayakovsky's Life
If you wish —
I'll rage on raw meat like a vandal
Or change into hues that the sunrise arouses, —
If you wish —
I can be irreproachably gentle,
Not a man — but a cloud in trousers!
A Cloud in Trousers [1914-1915],
translated by Andrey Kneller
Love poetry is a bright page among Mayakovsky's poems. Moreover, love lyrics is the heart of his works. The poet believed that he could only write about what he has experienced himself, that's why all of his works are largely autobiographical. The surface rudeness of Mayakovsky' lyrical hero hides his sensitive and tender heart. Casual, fleeting love affairs of Mayakovsky were incalculably frequent, but only four women have passed through his life, leaving a deep impression in it.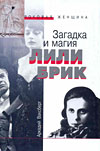 Lilya Brik. The mystery of this fragile woman, who could go to any man's head until the last days of her life, has remained unsolved. The famous writer, historian, journalist and lawyer Arkadii Vaksberg tried to solve this puzzle again. His book «The Mystery and Magic of Lilya Brik contains many never seen materials, documents, letters that lifts the veil on the secret aspects of the life of Mayakovsky and the Briks, their surroundings, as well as suggests a new version of what caused the tragic death of the poet.

Tatiana Yakovleva, a young beauty forever affected by the poet's enormous love, was a real lady known in the aristocratic world of Paris and the diplomatic world of Europe. The catalogue «Tata (Tatiana Yakovleva), presented to the reader, embraced both Mayakovsky's telegrams, drawings, notes and the letters from Tatiana Yakovleva addressed to her mother in Penza. These letters contain much items of interest about the poet. They are deeply astounding and produce very strong impression especially since the letters from Tatiana Yakovleva to Mayakovsky have lost.

The collection of memoirs, «Nora. Mayakovsky's Last Love is dedicated to the well-known theater and film actress Veronica Polonsky, with whom the name of Vladimir Mayakovsky is inseparably connected in the history of Russian culture. In addition to the memoirs of Vladimir Fiveysky, the son of the heroine of the story, the book includes a unique most accurate reproduction of the two notebooks diary written by Veronica Polonskaya in 1938. The book is lavishly illustrated with an extensive selection of photographs from the family archive, that are of great interest to the readers.

In the early 1990s, sensational news spread around the world - in America Mayakovsky fathered a daughter, Patricia Thompson, who still live in New York. Patricia's mother was Elly Jones, nee Siebert. The book «Mayakovsky in Manhattan, written by Patricia Thompson, tells the story of love and important events in the lives of their parents - Elly Jones and Vladimir Mayakovsky. The book's cover bears a drawing made by Mayakovsky in 1925.