Modern Editions of the Bible
Over the years, Bibles continued to be reproduced. At the early 20th century, when the first Bible Societies was established, the publishing activity reached its highest level.
In 1804, the British and Foreign Bible Society was formed to translate, publish and spread the Bible into the languages of previously unreached peoples.
During the first 100 years of its existence, the Society produced more than 165 million copies of the complete Bible and some its sections in more than 300 languages. One of the first publications of missionaries' translations into the languages of non-Christian nations became the Malay New Testament printed in London.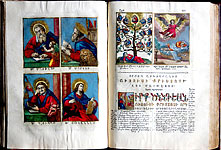 Due to the assistance of the British Society, the Imperial Public Library opened an exhibition of Bibles in 1856. Most of the publications, presented in this exhibition, are now held in the Rare Books Department of the NLR.
The most notable among the rare and curious exibits are, for example, the Bible in Upper Sorbian, Bible in the Mohawk language (the language of the North American Indians), the Armenian Bible printed by Mkhitar of Sebaste.
All these items are now shown in the permanent exposition of the Rare Books Department. Other editions of the Bible - both modern and early printed - are part of a unique collection of exceptional scientific and artistic value.