Croatia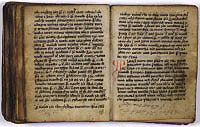 Collection of non-liturgical works.
15th c. 78 ff., 155 x 125 mm, parchment. Coll. 67. Berchich. No. 5. Glagolic collections of non-liturgical contents are extremely rear. Only seven known manuscripts of this kind created in the 15th century are extant.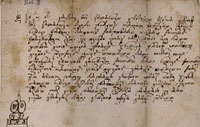 Deed of assignation of the monastery`s lands with the right of everlasting hereditary succession to Matija Vukonich.
November 25 (St. Catherine`s day), 1635. Monastery of St. Catherine. Scribe: Juraj Chrnich.
1 f., 270 x 200 mm, paper.
Coll. 67. Berchich. No. 8.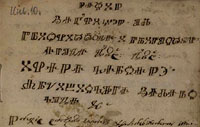 Karshan (Carsana), Ivan, archbishop of Zadar (1774 - 1800).
Statute of the Zadar theological seminary regulating all the spheres of its life and activity. 1777. Zadar.
12 ff ., 190 x 138 mm, paper. Glagolic cursive script.
Coll. 67. Berchich. No. 10. Fol. 1 r.