Estonia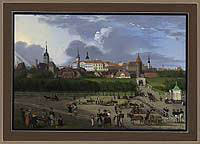 Hau, Johannes (1771 - 1838), painter. View of Revel from North-East. 1827.
1 f., 251 x 353 mm, paper, opaque water-colour. Coll. 712. Collection of drawings. No. 158. Fol. 1.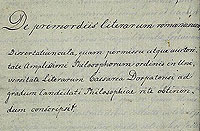 Manke, Henricus Woldemarus.
De primordiis literarum romanarum, Dissertatiuncula, quam permissu atque auctoritate amplissimi Philosophorum ordinis in Universitate Literarum Caesarea Dorpatensi ad gradum candidati philosophiae rite obtinendum conscripsit Henricus Woldemarus Manke, Esthonus. 1833. Derpt (Tartu). 16 ff., 222 x 78 mm, paper. Lat.Q.XVIII. 124. Fol.1 r. Dissertation on the origins of the Roman literature by Henric Woldemar Manke, an Estonian, upheld at the famous University of Tartu.