Denmark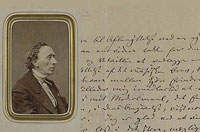 Andersen, Hans Christian (1805 – 1875), Danish writer.
Letter to M. Trubnikova, translator of Andersen's tales into Russian, with the expression of gratitude for her work. August 28, 1868. Frijsenborg. 2 ff., 271 x 126 mm, paper. Coll. 991. General collection of foreign autographs. Inv. 1. No. 18.
Andersen, Hans Christian. Photograph by Budtz Muller and Co. S.a. Copenhagen. 1 f., 98 x 63 mm. Coll. 965. P.L. Vaksel. No. 57.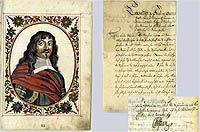 Titulyarnik. 1673 – 1677. Moscow.
212 ff., 332 x 235 mm, paper. Herm. 440. Fol. 133 r.: Portrait of Christian V, King of Denmark.
Christian V, King of Denmark and Norway (1670 – 1699). Decree to the commandant of the fortress of Friedrichsohrt Major General Bartold von Bulau about the reparation of the fortifications. November 1, 1693. Copenhagen. 2 ff., 313 x 205 mm, paper, red wax seal. Coll. 993. P.K. Suchtelen. Box 3. No. 40. The signature of Christian V.
Also known as "Czar's Great Book" ("Bol'shaya gosudareva kniga"), this book contains brief information about the history of Russia, portraits of the Russian princes from Rurik to Alexey Mikhaylovich and portraits of foreign sovereigns.