Germany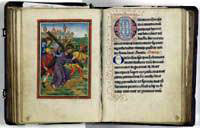 Liber precum. 1480-s. Germany (Cologne).
280 ff., 130 x 94 mm, parchment, miniatures. Lat. O.v.I. 206. Fol. 55 v.: Miniature "Bearing of the Cross".
The first part of the manuscript contains "Vita Christi" prayer cycle illustrated by 41 full-page size miniatures. The miniatures were produced by the artist known as the "Master of St. Petersburg Prayer-Book" who worked in 1470s-1490s in Cologne both as an easel painter and a miniaturist.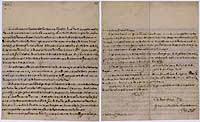 Holstein-Gottorp, Johanna Elizabeth (1712 - 1760), Princess of. Letter to her daughter, Great Princess Ekaterina Alexeevna, future Russian Empress Catherine II. December 17 (28), 1745. Zerbst.
The letter is partly encoded.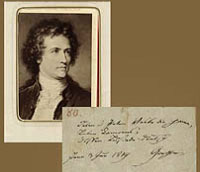 Goethe, Johann Wolfgang (1749 - 1832), German writer. Request for books. June 3, 1819. Vienna. 1 f., 98 x 162 mm.
Goethe, Johann Wolfgang. Photographed by F. Bruckmann from the portrait by C. Jaeger. S.a. S.l. 1 f., 151 x 113 mm. Coll. 965. P.L. Vaksel. No. 1071.