Luxembourg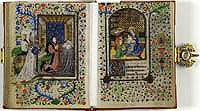 Book of Hours. 2nd quater of the 15th c. Flanders (Bruges).
156 ff., 185 x 117 mm, parchment, 39 miniatures. 19th c. binding with the agraffe in the form of an eagle.Rasn. O.v.I. 6. Fol. 111 v.: Miniature portraying Peter of Luxemburg (Petrus Luxemburgiensis) and a lady with the coat of arms of the Dukes of Luxemburg.
The last proprietress of this manuscript was probably the Russian Empress Alexandra Fedorovna.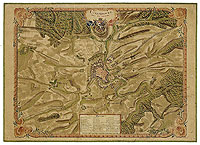 Luxembourg avec ses environs. Manuscript map. Late 18th c.
1 f., 520 x 720 mm, paper, ink, water-colour. The map's frame is decorated in rococo style. [1:16000].Coll. 342. Collection of maps and charts . No. 425.