Russia Moscow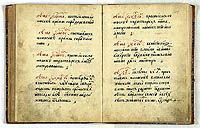 Miscellaneous collection, compiled in the 19th c. of the fragments of different 15th – 17th century manuscripts by the Russian archeograph P.M. Stroev.
152 ff., 188 x 135 mm, paper. Pogodin. 1952. Fol. 103 v. – 104 r.: An abridged chronicle containing a lot of information about the history of Moscow.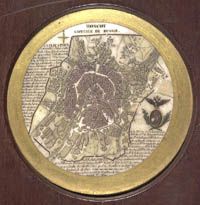 Moscou capitale de Russie. Tardieu P.F. Paris, 1809. A miniature on porcelain, frame of mahogany. Diameter 80 mm. K 2-M 1/30.
The map of Moscow executed by the Parisian engraver P.F. Tardieu. The map is an exact copy of the Russian map published in 1790. The miniature was purchased by A. Ilyin, the head of the well-known company "A.Ilyin's Cartographic Establishment". The map includes bottom index, where letters indicate city parts, islands, rivers, canals; figures indicate public buildings. In the cartouche there are coats of arms of Russia and Moscow.