Serbia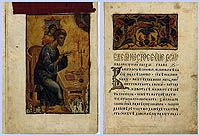 Gospel of Radoslav. Early 15th c. 12 ff., 375 х 260 mm, paper, 4 miniatures. F.I. 591. Fol. 3: Evangelist Lucas; fol. 5 r.
The scribe of this manuscript, know as Monk from Dalsha, has leaft a lengthy note in which he mentions many valuable details about contemporary historical events and his own biography. The miniatures of the Evangelists were painted by artist Radoslav.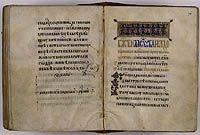 Missal. Third quater of the 14th c. Hilandar monastery. Scribe Simeon.
89 ff., 228 x 70 mm, parchment. Decorated with many initials and ornamented headings in neo-byzantine style. Pogodin. 37. Fol. 73 v. – 74 r.
This manuscript is the earliest known copy of the Aphon recension of the Slavonic Liturgy of the Presanctified Gifts