N. Benois' Archives in the Manuscripts Department of the NLR
St. Peterburg Fenomen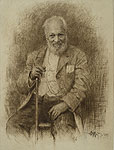 An exhibition, held by the Manuscripts Department to mark the 200th anniversary of the famous St. Petersburg architect Nicholas Benois, took place at the end of the year 2013. His archives – housed at the National Library of Russia (f. 63 op. 1: 148 items) – is the most significant state collection of documents related to this brilliant professor of architecture. It contains a considerable number of documents tracing the main stages of his career. They were received by the Library in 1957-1958 from his granddaughter Catherine Leontyevna along with the archives of her father Leon Benois (f. 63 Op. 2).
The name of Nicholas Benois is inseparably linked with the city of St. Petersburg. Living in his hometown for almost the entire 19th century, he realized not many of his own projects in the city. But being in the service for the City Government over decades, he oversaw the construction, planning, restoration in and around the imperial capital and, everything, he dealt with, bears the stamp of his personality, delicate taste, deep knowledge and excellent skills.
Above all, he founded a numerous artistic family, raised five talented sons. One of them - Leon became his direct successor in the field of architecture and taught as a professor, the head of the academic studio, a whole galaxy of builders of Petersburg - Leningrad, including Ivan Fomin, Oscar Munz, Vasily Kosyakov, Marian Peretyatkovich, Vladimir Pokrovsky, Alexey Shchusev, Fyodor Lidval (Johan Fredrik Lidvall), Alexander Gunst, Marian Lalewicz, Hyppolit Pretreaus, Alexandr Baranovsky, Vladimir Shchuko, Nicholas B. Vassilieve, Nikolay Lanceray, Ludwig Schröter, Lev Rudnev, Yevgeny Katonin, Noah Trotsky, Alexandr Rotach and many others.
Nicholas Benois was born on 1 July 1813 in St. Petersburg in the family of maitre d'hotel at the court of Empress Maria Feodorovna. His French father, Louis Jules Benois, a descendant of a farmer from the suburb of Paris Saint-Ouen, was educated in the school of his father that his grandfather had opened at a nearby abbey. To continue studies, he moved to Paris, at the court of the Duke of Montmorency where he mastered the craft of confectionery. Then, he entered the service of the Prussian diplomat, and by the will of fate, was soon in St. Petersburg, at the court of Russian Emperor Paul I. Here Louis Jules was offered the position of butler. He stayed in the city, married Anna Catarina Groppe, a girl from a German settlement. They had 11 children. Nicholas - the middle son of five boys - was the godchild of the Empress Maria Feodorovna, Paul I's wife.