History of Research
In 1870, the graduate of the Oriental Faculty of the St. Petersburg University Hebraist A. Harkavy was assigned to examine and describe the Hebrew manuscripts. Harkavy worked in the Public Library until 1918, he actually was the custodian of the Firkovich collections for half a century. He produced several inventories, issued two catalogues and about 400 publications, most of which deal with the Firkovich Collection. Harkavy accused Firkovich of falsifying colophons to many biblical codices in the First Collection and of "ancientizing" dates on the graves of the Karaite cemetery in Chufut-Kale. This led to unnecessarily cautious attitude of subsequent generations of researchers to all manuscripts in the collection.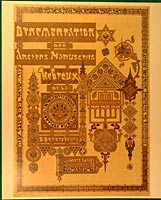 The famous Russian art expert and critic
V.Stasov
, was the first to attract public attention to the wonderful decoration of Hebrew manuscripts. In 1886, he together with D. Ginzburg published the album
«The Jewish Ornament»
, which has become a fundamental tool for the study of the Middle East Jewish art. Thanks to domestic researchers, materials from the Jewish holdings of the Library were involved in the scientific studies, however, the international scientific community also had a possibility to use them. From the second half of the 19th century to the 1930s, Hebrew manuscripts were repeatedly sent abroad for studies and publications. Later, when the Library established a photo laboratory, it started making photocopies, and then microfilms. In the 1990s, the Library was involved in a collaborative microfilming project with the National Library of Israel to produce microfilm copies of the handwritten items from the Jewish holdings. As a result, the copies of almost all Hebrew manuscripts are available not only in the National Library of Russia, but also outside of it - in the Institute of Hebrew manuscripts at the
National Library of Israel
in Jerusalem, – and the information about them is placed on the website of the Library of Israel.
Since the beginning of the 1990s, the research of Hebrew manuscripts from the Library holdining has become more active. The most valuable manuscripts were exhibited at international exhibitions: in Spain (Toledo, 1991-1992), Germany (Berlin, 1992; Aachen, 2003), Israel (Jerusalem, 1998), the United States (Washington, 2006, San Diego, 2007-2008 ), the Netherlands (Amsterdam, 2011-2012). In 1998, a facsimile edition of the Leningrad Codex was issued in the United States. Handwriting samples and ornamental patterns from ancient manuscripts were repeatedly published in albums.