French Royal Bindings of the 17th - 19th Centuries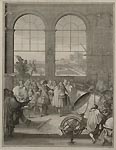 The collection of European Books in the National Library of Russia contains books of various origins that have a rich history and an unusual fate, which could become a story in itself.
An important place among them is occupied by carefully kept publications from the libraries of the French royal family - the houses of the Bourbons. As a rule, these books are specially selected high-quality printing products. But first of all, they attract attention to their leather or marocain bindings of different tints, with their former owners' bookplates embossed in gold.
The online exhibition "French Royal Bindings of the 17th-19th Centuries" shows books with Bourbon bookplates from personal libraries of the dynasty members and from the collection of the Royal Library. Books published in the Royal Printing Works are displayed separately.
Each exhibit has a bibliographic description and characteristics of its binding, an indication of origin and some interesting facts about the publication. Identification of ownership is carried out using various reference books (see section Literature List). In cases where there is no complete certainty about the origin of the publication, further clarifications and special reservations are provided. In the section Exhibition Catalogue, the full list of publications is given. In total, the exhibition presents 86 editions and 196 items from the collection of European Books of the National Library of Russia.
We thank G. Schmidt and A. Zaplatin for bibliographic assistance, Yu. Nikitenko for cataloging and describing publications. We express special gratitude to S. Korolev for many years of work to identify the owner's bindings. The results of his research formed the basis of this exhibition. B. I. Klyuchko, K. V. Perepechkin