Hungary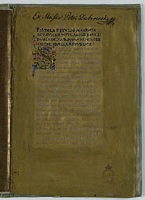 Cicero, Marcus Tullius. Epistola al Octaviano.
Eschin. Epistola agli Ateniesi. 2nd half of 15th c. Italy. 11 ff., 218 x 140 mm, gilded parchment, 2 large decorated initials. Ital. O.v.XV. 1. Fol. 1 r.
The manuscript from the library of the Hungarian King Mathias Corvin.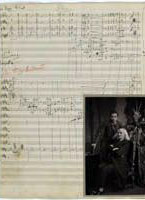 Liszt, Ferenc (1811 – 1866), Hungarian composer, pianist, conductor. Missa solennis zur Einweihung der Basilica in Gran. (Granian messa). Full score.
1855. [Weimar]. Autograph. 57 ff., 397 х 330 mm. Coll. 298. A.I. Ziloti. No. 2. Fol. 9 r.: Gloria.
Liszt, Ferenc and Ziloti, Alexander Ilyich. Photograph. 1880-s. S.l. 1 f., 197 x 127 mm. Coll. 816. N.F. Findeisen. No. 3552.
The manuscript was given by the Austrian minister Prince Paul Anton Esterhazy (1786 – 1866) to the Emperor Alexander II on the occasion of the coronation ceremony.