Icelande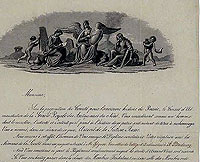 Magnussen, Finn (1781 - 1847), Icelandic archaeologist and scholar.
Letter of notification to Matvey Carnioline Pinsky informing him that he has been elected a member of the Russian section of the Royal Society of Northern Archeologists. October 27, 1843. Copenhagen. 1 f., 226 x 212 mm, paper. Coll. 608. I.V. Pomyalovsky. No. 5667. Fol. 1 r.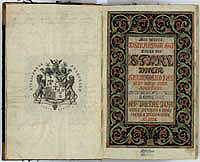 Sturlungar-Saga. Arna Biskups-Saga. 1724.
314 ff., 296 x 182 mm, paper, decorated frame and initials. Icel. F.IV. 1. Fol. 1 r.
The manuscript contains two sagas – the history of the wealthy and powerful family of Sturlungs, written by Sturla Thordarson and the story of the bishop Arni. The events described in the sagas date back before 1310. Sturla Thordarson (1214 – 1284) was an Icelandic chieftain and a writer of sagas.