Ireland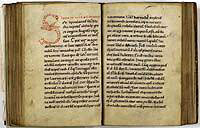 Excerpta moralia. Vitae s. Brendani et s. Symphoriani. Late 12th c. Germany.
102 ff., 155 x 105 mm, parchment, red decorated initials. Lat. O.v.I. 199. Fol. 53 v. – 54 r.
This collection contains the life of the Irish monk St. Brendan (484 – 578), who in 558 became the abbot of the monastery of Klonfert.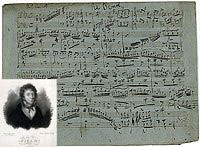 Field, John (1782 – 1837), Irish composer and pianist. Concert No. 2 for piano and orchestra. The part of piano.
1st half of the 19th c. Saint-Petersburg. Autograph. 4 ff., 267 х 370 mm, paper. Coll. 891. The Yusupovs. No. 101.
Field, John. Portrait. Engraving by Gregoire Janoff after the drawing by Charles Jerchen. Early 19th c. 1 f., 357 х 270 mm, paper. Coll. 816. N.F. Findeisen. No. 3753.
The manuscript came to the library with collection of princes Yusopovs, connoisseurs of music and theatre, owners of a home theatre.