Italy Florence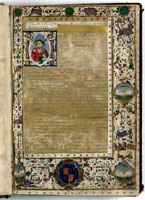 Boccaccio, Giovanni.
Il Filocolo. 15th c. Italy (Florence). 212 ff., 308 x 205 mm, parchment, historiated initial, 4 large decorated initials. Ital. F.v.XIV. 1. Fol. 1 r.
The work is an adaptation of the 13th century French romance "Floire et Blancheflor". The 1st page is gilded; the text on it is in a decorated frame. On this page one can see the coat of arms of the royal house of Aragon, and historiated initial M with Boccaccio's half-length portrait.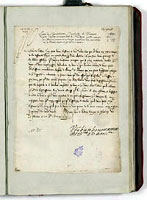 Tuscany, Chretienne de Lorraine (1565 – 1637), Great Duchess of.
Letter to Nicolas Brulart, marquis de Sillery, French referendary and statesman. 1591. Florence. 2 ff., 280 x 205 mm, paper. Coll. 971. P.P. Dubrovsky. Autogr. 4. No. 45.