Turkey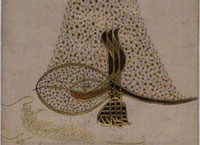 "Ahd-namah", a treaty between sultan Ahmad I and Henri IV (French King). 1603. Istanbul. Scroll, 360 mm wide, paper.
The head of the scroll with the illuminated tughrah of sultan and first lines in gold. Dorn. 543/42.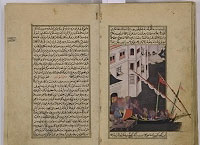 Suhayli. "Kitab al-nawadir" ("Book of rarities", a collection of moralizing stories). 17th c. Turkey.
167 ff., 245 x 150 mm, paper. T.n.s. 64. Fol. 146 v. – 147 r.: One of the miniatures of this manuscript, showing distinct European influence.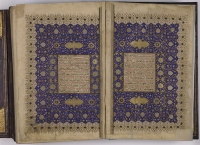 Qur'an. 981 A.H./1574 A.D. Madinah. 239 ff., 430 x 280 mm, paper. Krachkovsky. 50. Fol. 1 v. – 2 r.: Illuminated double frontispiece.
This manuscript belonged to Soqolli-pasha, the admiral of sultan Suleyman and the great vizier of sultan Selim II. Soqolli-pasha donated the book to the mosque built by himself in Istanbul in 1577.