Christian Literature in Translation
Biblical literature is represented by translations of the Old and New Testaments. Psalms that occupy the main place in every service of the Ethiopian Church, was the most frequently copied book of the Old Testament.
Special importance was given to correct, clear and fluent reading of Psalms. It took months of hard work to acquire this ability. That is why, many students knew the whole Psalter by heart. It was essential for those who wanted to become a priest, as the psalms are the basis of Christian Liturgy and Hymnology. In addition, the psalms were supposed to be read over the deceased, were widely used to tell fortunes and in magical practice. Thanks to this, the Psalter gained the extraordinary popularity in medieval society. Due to demand for the Psalms, its copies have survived in great numbers.
Besides the Psalter, noteworthy among the books of the Old Testament is the Song of Solomon.
The most widely circulated books of the New Testament were the Four Gospels that were first translated into Ge'ez from Greek in the 5th-6th centuries. The Ethiopic text, apparently, was not unified and represents a number of alternative versions in different manuscripts.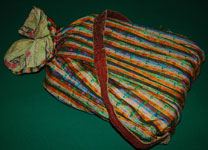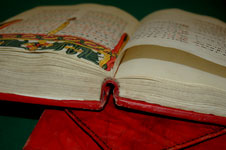 The Gospels, usually, start with an introduction and Eusebian Canon Tables which show where each Gospel agreed with or differed from the others. Among books, we can see both display presentation copies intended for royal persons, and small, thin books for everyday use. The most popular was the Gospel of John. It is often written as a separate book which was worn by priests in a special bag.
Gospel was often adorned with miniatures, most of them are portraits of evangelists as well as a miniature head ornament in the upper part of the sheet at the beginning of the text.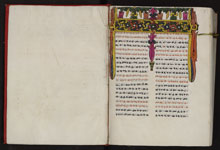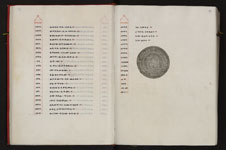 An example of a manuscript executed carefully with a long elaborate work of Ethiopian scribes is a presantation copy of the Four Gospels, commisioned by King of Ethiopia Menelik II in 1895 (1887 by the Ethiopian calendar) and given as a gift to Nicholas II by the Ethiopian embassy sent to the Russian Empire. The manuscript was lavishly decorated. Several sheets have the print of Menelik II's seal.
The thick book made out of fine white parchment, is enclosed in a double case in the form of a bag with a belt decorated with embossing, the outer part of the bag is decorated with leather tassels, each of which was knotted. The bag, in turn, is enclosed in a sack made of silk in colours of the rainbow outside and of cotton with floral motifs inside. The sack is attached to the manuscript's bag by a leather belt. This manuscript is one of the evidences of the establishment of diplomatic relations between the Russian Empire and Ethiopia, officially beginning in 1898.