History of the Collection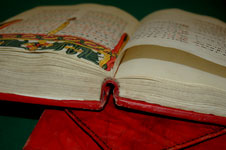 The total number of Ethiopian manuscripts in the National Library of Russia is not much more than 60 books and parchment scrolls. They were brought by diplomats, travelers and researchers who had visited the Horn of Africa or the Ethiopian community in Jerusalem. Some manuscripts were acquired from antique dealers in various European countries. The collection includes also luxury presentation copies commissioned by Ethiopian monarchs.
The first seven Ethiopian manuscripts were received by the Library in 1805, when a Russian diplomat Piotr Dubrovsky, the founder of the Manuscripts Department, presented his collection amassed by him during the many years of service at the embassy of France as a gift to Emperor Alexander I. In 1858-1859, 12 manuscripts were bought with the collection of Constantine Tischendorf. And in 1883, two Ethiopian manuscript joined the collection after the purchase of handwritten books collected by Bishop Porfiry Uspensky. One manuscript book was part of the private collection of the historian and archaeologist Pavel Savvaitov, came in the Library in 1896. In 1899, the library holdings were further enriched with two more books acquired with the extensive manuscripts collection of Chief of the Russian Ecclesiastical Mission in Jerusalem, Archimandrite Antonin (Kapustin). In 1919, the collection of the Petersburg Theological Academy was transferred to our library and added to the Ethiopian stocks twenty-six manuscripts. In 1928, the library was given a presentation copy of the Four Gospels, a gift from Menelik II to Emperor Nicholas II, which before the revolution was kept in the Anichkov Palace (Summary Report of the Manuscripts Department for the period of 1914-1938 with an introductory historical essay / ed. Ukhmylova T.K., Geiman V.G., Leningrad, 1940, p. 260).
In 1932, the collection of the Society of Ancient Literature brought the Psalms. The year of 1974 saw the acqisition of the Gospel of John, with the Academician - Arabist I.Y. Krachkovsky's collection. Between 1998 and 2006, another 6 manuscripts were added to the Ethiopian collection of the National Library: three of them belonged to the St. Petersburg specialist in the field of Ethiopian studies S.B. Tchernetsov, head of the Africa Department of the Museum of Anthropology and Ethnography after Peter the Great, and the other three were purchased in an antique shop.