Herman Wolf
and his book «The Mirror of the World» (Des werltz spigel)
The struggle for freedom of religion was fought not only against the Spaniards. The separation line passed between the provinces, as a result, the southern provinces of the Netherlands remained Spanish and Catholic. The dividing line passed between different sectors of society, each person made a decision in his own soul. Notable among exhibits is a manuscript book created in the second half of the sixteenth century and still unknown in the scientific literature. Written by a Catholic priest, it conveyed to us the voice of a man remaining faithful to the traditional faith and the Spanish King.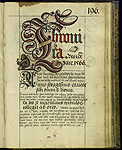 Herman Wolf
(1510 - after 1578), a Catholic priest in Kampen in the northen Dutch province Overeyssel, wrote religious and didactic works for laypeople under the general title
The Mirror of the World
(
Des werltz spigel
). In 1566, when the revolt of the Netherlands against the rule of the Spanish King began, he started to describe the events in the
Chronicle of 1566
.
Wolf presents facts in the way we used to read in history books, but he has changed the view of the events from positive to negative, and vice versa. The plus sign (the Netherlanders' struggle for independence under the banner of Calvinism) has changes to a minus sign and go on,
'In the year of 1566 after Christ, Dutch nobles secretly gathered in the royal lands and swore that they would not allow to impede the Reformation, the results of which were disasters, strife and terrible ravages in the lands and cities. But the misfortune of misfortunes was that they raised an armed hand against His Majesty the King. All the lands joined them. They have assumed the name of Geuzen.<…> So when you see that love is gone and evil reigned, then eventually come to the conclusion - this is the time of a loss of all that is good, and the day of a curse is coming soon.'
The manuscript includes a painted plan of Kampen - the hometown of Herman Wolf, dated to 1560, and his autobiography.