Russian Easter Postcards of the Early 20th Century
Postcards of Elisabeth Boehm
Postcards of Elisabeth Boehm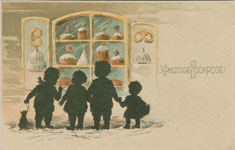 Elisaveta Bem or Elisabeth Boehm (1843-1914)
studied in the School of Painting at the Society for Promotion of Artists during 1857 – 1864 and graduated from the school with the Large Silver Medall. She was a versatile artist. E.Boehm was considered as an outstanding master of silhouette, she also successfully worked in watercolor, illustrated children's books and magazines, developed designs for works of glass.
Still she is mostly known as one of the most famous postcard Russian authors. She produced over 300 postcard designs for different publishers. The first of these were created for the St. Eugenia Welfare Community. Many cards were printed by the Richard publishing house in St. Petersburg, as well as by the I. Lapin Paris Company.
In an essay about the artist, the writer Sophia Lavrentieva (1836-1918) asked a rhetorical question, "Who can resist the charm of these children on the cards and not smile at these little kids dressed now in rich clothes of Russian nobility, now in simple homespun coats?' These words can be also applied to Easter postcards of Boehm.
In some pictures, Boehm cites verses of Russian poets. The postcard "Spring is coming, full of wonders…" refers to the poem "Christ is risen!" by Apollon Maikov (1821-1897). This postcard was first published by the St. Eugenia Community in March 1909, and our exhibition features its 4th edition.
The last stanza of the poem "Christ is risen" by the great Russian poet Alexander Blok' aunt Ekaterina Beketova (1855-1892), was chosen for the postcard "A gift of a bright red egg…" by the Richard publishing house.
Richard
company – "Church bells toll…" is a mix of two poems: of Maikov, and of Beketova.
Of course, in a number of works, Boehm used the traditional Easter greetings. Matching cards "Christ is risen!" and "He is risen indeed!" by the St. Eugenia Community first appeared in 1905. Probably, not only Lavrentieva was touched and excited by the "little charming faces" drawn by Boehm. Despite that these pictures of kids in baskets were monochrome phototype, they gained very high popularity and were reprinted many times. A colour autotype prepared by the same publisher for Easter of 1908 and depicting a peasant girl with a doll, too, ran into at least 4 editions.
Christ is risen!
were produced by the artist for the
Richard
publishing house, they depict peasant children – a girl and a boy.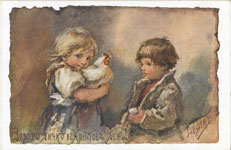 Boehm could not help but referring to proverbs and sayings, so beloved by her, ("An egg is valuable to the Christ day!", "Feast makes every soul happy"), to folk songs "We celebrate the Feast days only with family!", "I've cooked and baked for Peter, not for Mary!"). By the way, some of the poetic sayings in the postcards are probably talented stylizations composed by the artist herself. This observation is made by the modern researcher N. Mozokhina in her article to the illustrated catalogue of postcards "Elizabeth Boehm" (2012). Whatever it was, Easter cards took an important place in the gallery of "all these kids, in their inexhaustible variety, with well-chosen proverbs and rhymes".(Lavrenteva)
Many works depicted eggs reminding about Easter day: these are, for example, a series of postcards issued by the I. Lapin Company in Paris, and postcard by the Richard publishing house that shows a charming girl rolling Easter eggs down a chute.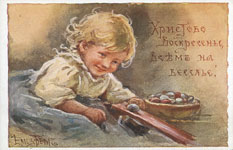 'We began to roll the eggs down the Red Hill. In my childhood, I had a special angled board, half a meter long, with a chute inside it. At the bottom end, one egg was laid, the other was rolled down towards it. The contestant whose egg remains uncracked was the winner.'
Metropolitan Pitirim (Nechaev).Rus' ukhodyachshaya (Disappearing Russia)
Other pictures portray a little hostess cooking an Easter dinner in the kitchen or inviting guests to the festive table: such cards were printed both by the St. Eugenia Community and by the Richard publishing house.
Some Boehm's cards feature the custom of the Easter greeting. Mutual congratulations were accompanied by a kiss and a gift of Easter eggs. They began on a festive liturgy and continued out of the church.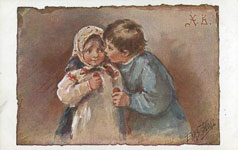 "The sky glowed with sunrise<…>. In the square and in the church, 'Christ is risen!He is risen indeed!', was constantly heard, kisses sounded". "All people hugged each other, repeating: 'Christ is risen!.. He is risen indeed!..' People gave eggs to celebrate Easter. All had festive appearances, merry faces; sadness and worries vanished'.
N. Soloviev-Nesmelov. Svetly prazdnik v derevne (The Holy Feast in the Countryside)
Figures on the card "An Important Tradition, on the Great Day!" issued by Richard company are dressed in historical Russian costumes. This is a good example of how the artist worked: she first make sketches of peasant children. Then she use these sketches to create her originals, clothing children in various costumes in her imagination. Boehm's collection of decorative and applied art pieces obviously helped her. Her apartment was a real museum with a lot of OLd Russian woman's headdresses, gloves, ladles etc. on shelves and tables.
The popularity of Bohm's works and demand for Easter greeting cards were truly astronomical. So some publications, unrelated to Easter, were produced with a special overprint. The exhibition presents two such cards issued by the I. Lapin Company, and both of them were used in the postal correspondence during Easter celebration of the 1910s.
There is something symbolic in the fact that Elizabeth Boehm died a few days after the outbreak of World War I. According to the famous poet Anna Akhmatova's words, "not the calendar but the real twentieth century" came. Now there was no place for "charming little faces". Peasant children meeting a good friend with berries, soon became the signs of the lost past.
Learn more about New Year's Postcards of Elisabeth Boehm