Russian Easter Postcards of the Early 20th Century
Easter Eggs
«Richard»
before 1914. On the contrary, a greeting card with the same name, published in Kiev during the war and the revolution of 1917, is designed in almost monochromatic tones
At the beginning of the 20th century, painted Easter eggs began to be collected and studied. In 1899, there was published «A Description of the Collection of Folk Easter Eggs (Pysanky)» containing over 2,000 drawings. It was compiled by S. Kulzhinsky using the collection of the Lubny museum of E. Skarzhinskaya. Pysanki were also shown on the last Easter cards issued by St. Eugenia Community – they appeared in March 1917.
Among the early cards issued by the same publishing house is a work dated to 1908, execuded after Konstantin Svishchevsky (1870-1911), an officer, auditor of the Academy of Fine Arts. It portrays a peasant girl carrying a huge Easter egg. The card forming a pair shows the same large Easter egg held by a schoolboy. The common people against the background of red Easter eggs are depicted on a series of cards which were printed in the Moscow typolithography «Obshchee Delo» of G. Lehman.
.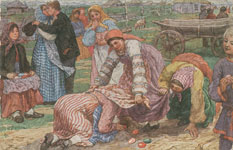 Works of Fedot Sychkov (1870-1958) descended from a poor peasant family, illustrate, mainly, life of a Russian village, that was familiar and close to him. For the Richard company he produced a number of Easter postcards. One of them depicts the "Easter Egg Hunt". It was a game, mainly, for girls to play. The girls had to find the Easter eggs hidden in the sand hills.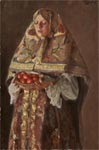 The same publishing firm issued the postcard "At Holy Easter" by a pupil of Ilya Repin Ivan Kulikov (1875-1941). Kulikov was another descendant of peasants and a master of genre scenes from rural life.