Russian Easter Postcards of the Early 20th Century
Great Thursday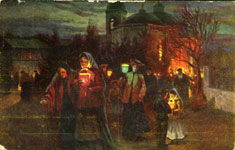 «It is a warm evening. In gathering dusk, there are seen lights in the hands of people: they are coming back with candles from the reading of the Twelve Passion Gospel. <…> How much sad charm in this custom to bring home the Thursday candle with the flame. I once had to spend such an evening on a journey, and already in thick darkness of the southern night, I arrived in the city of Yalta. My heart was touched somehow when I saw people moving in the warm stillness of the night with the same lights in their hands, as in the distant Moscow».
E. Poselyanin. «Paskha v Moskve Easter in Moscow» («Dusha pered bogom Soul before God»)
Palm Sunday marks the beginning of Holy Week. During these seven days immediately preceding Easter, Christians commemorate the last days of Jesus' life and His death on the cross. There are special services every day of the week. Each day of Holy Week has its own particular theme. The Great Thursday service remembers the events of the final three days of Christ's Passion. During the reading of the Twelve Passion Gospel at Holy Friday Matins, the faithful hold candles, re-living our Lord's sufferings and burning with love for Him. It is an ancient custom of Russian Orthodox Christians to take home a lit candle from this Service to light a lamp before the icons.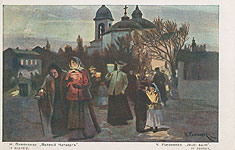 In 1904, the
Society for Travelling Art Exhibitions
show the genre painting «People going out of the church on the Great Thursday», full of pathetic poetry of this custom. The work was reproduced on postcards, and its author, the talented artist
Nikholai Pimonenko (1862-1912)
, created its watercolor replication for
St. Eugenia Community
. This explains some differences in the compositions. Issued first in 1904, then the card «Great Thursday» ran into at least four editions by the
Community
.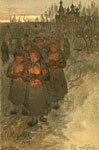 Pilgrims holding candles are depicted on another postcard of
St. Eugenia Community
– «After Matins&raquo ;, after the original of the genre painter and graphic
Ivan Kazakov (1873-1935)
. For another St. Petersburg publishing house –
«Richard»
– Card «Great Thursday » performed by
Ivan Nayderov (1872-1949)
, a teacher of drawing at the Moscow Industrial College, built to commemorate the 25th Anniversary of the Russian Emperor Alexander II's Reign. The Riga
Lenz and Rudolf publishing house
commissioned Easter cards to their permanent employee, the landscape painter
Mikhail Germashev [Guermacheff] (1867-1930)
. The two of his compositions –laquo;After Matins» and «The Evening before Easter» are devoted to citizens walking along the street with candles in paper lanterns in the quiet spring evening.
The NLR stored these cards of Nayderov and Germashev originating from the collection accumulated by the American professor of Russian language Alexander Pronin (1927-2007). All three cards were sent by post as Easter greetings at one time, at the early 20th century.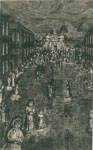 As appears from its name, the Saint Petersburg
Eau-forte
publisher issued postcards in the technique of etching – among them is «On Thursday in Holy Week». It depicts a recognizable city scene: people with candles are going along Nevsky Prospekt from the Alexander Nevsky Monastery.
Another Holy Week card photographically reproduces the picture «The Great Thursday» of the genre painter and portraitist Alexei Ostrogradsky (1867-1943), which was acquired by the famous patron of art, collector, and philanthropist P. Tretyakov for his gallery in 1897.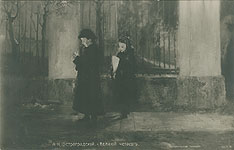 «I am carrying an Easter-eve candle from the Gospels Readings, looking at the flickering light: it is holy. It is a serene night, but I'm afraid that the fire will go out!»
I. Shmelyov. «Leto Gospodne [The Summer of the Lord]»