Geography
14. Geographie générale de toute la terre. In chronologiam brevis introductio.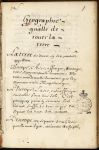 World Geography. A brief introduction to chronology.
17th century, in French and in Latin.
Binding of the 17th century: cardboard, brown leather.
Fr. О.IV.40
The manuscript of modest decoration was likely copied for personal use for educational purposes.
15. Andreossy, Francesco (1633-1688).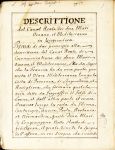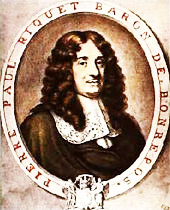 Descrittionè del canal Reale di communicatione dei due mari Oceano et Mediterraneo in Languadoca.
Description of the main canal in the Languedoc between the Mediterranean Sea and the Atlantic Ocean.
17th century (2nd half), France, in the Italian language.
Maps: pen, watercolour.
Binding of the 18th century: cardboard, brown leather.
It. Q.IX.5
The manuscript contains a description of the Canal du Midi in Languedoc - the oldest man-made canal in Europe, connecting the Mediterranean Sea with the Atlantic Ocean. The Canal du Midi is included by UNESCO among the landmarks of architecture. The 240 km long canal starts in Toulouse and ends at the town of Sete on the Mediterranean. The initiator of the project was a French nobleman, former inspector of salt taxes, Pierre-Paul Riquet (1604-1680). He accepted the main responsibility for building as well as financing of the Canal du Midi and invested a significant portion of his personal savings in its construction which began in 1662 and was completed in 1681 under Louis XIV.
The author of the manuscript treatise describing the canel in Italian is an Italian engineer and cartographer Francesco Andreossi. Andreossi studied engineering in Paris and worked on building the canal as an engineer specialised in development and management of water resources and in construction of water supply. The treatise is illustrated with detailed maps and plans of the places, where the famous canal runs.