Oriental Manuscripts
28. Nabożne rozmyślania taiemnic zbawienia naszego. Modlitwy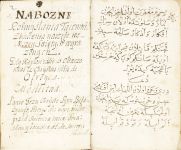 Pious meditation on the mysteries of our salvation. Prayers.
Early 18th century (1711), Galicia (Jaroslaw, Lvov), in Polish and in Turkish.
Binding of beginning. 18th century: cardboard, brown skin.
Dorn, 506
The manuscript started to be written in Lviv and continued in the town of Jarosław in Galicia. Such an unusual parallel text of Christian prayers in Polish and Turkish was compiled during the war between Russia and Turkey (1710-1713). It most likely linked with the events of that time. As known, Peter the Great and Prince of Moldavia Dimitrie Cantemir signed a treaty of alliance against the Turks in April 1711 in Jarosław, and, on 30 May in the same place, the Russian Tsar signed an agreement with the Polish king Augustus II. It is possible, the translation of prayers from Polish into Turkish is made in order to spread Christianity. In another version, the manuscript may have belonged to a Christian who knew these two languages.
29. Ruz-nama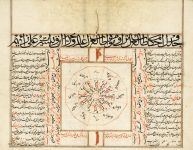 Ruz-nama (calendar).
No earlier than 1729, in the Persian language.
Binding of the 18th century: cardboard, marbled paper.
Dorn, 318
The calendar is imperfect, the beginning of text and the date are missing. The seal of the owner with his name and the date of the Iranian calendar "Luft Abd Alla 1142" has remained intact, so the manuscript can be dated no earlier than 1729 (for conversion of a date of the Iranian calendar into the corresponding year of the Gregorian calendar, we need to add about 600 ).